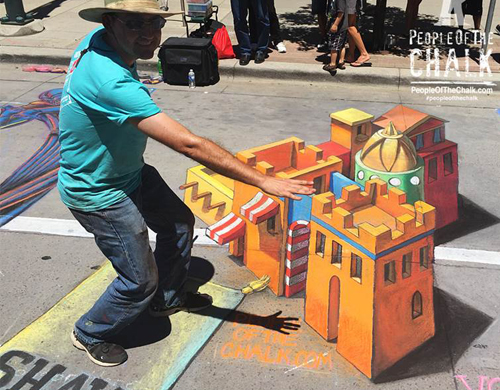 Artist/Event: Benjamin Hummel
By the way, have you checked out some of our really cool chalk art videos? Have a festival or event? Want to spice it up with illusional chalk art? Go to PeopleOfTheChalk.com and contact me for more info.
-- Website: http://PeopleOfTheChalk.com

Eternity Arts produces quality, beautiful chalk for a great price. I am so grateful that they sacrificially provide so many resources.
--Sara Bryan
Eternity Arts' Chalk is Used by...
Schools...
Bob Jones University
Cornell University
Florida State University
Georgetown University
Harvard University
James Madison University
Johns Hopkins University
Michigan State University
Princeton University
University Of Pennsylvania
University Of Puget Sound
Yale University
Artists...
Art for After Hours
Tracy Lee Stum Fine Art
Agencies...
Art for After Hours
Tracy Lee Stum Fine Art
Non-Profits...
The Red Cross
Tiger Woods Foundation
Companies...
Disney
Buena Vista Pictures
Walmart
Target
Clorox
Azek Wood Products
BET Television
Equinenergy Ltd
Mohawk Carpets